Image Source: AWS
If you're an AWS enthusiast like us, you are excited whenever Amazon releases a new product or updates an existing service. So far in 2017, AWS has launched some very exciting products — and in this post, we'll share our AWS Engineers' opinions on these announcements:
1. Chime
Release Date: February 13, 2017
In February, AWS launched a new videoconferencing service, Chime. Chime is a fully-managed communications service for business that brings together voice, video, and chat and adds to AWS' portfolio of business applications (WorkMail, Workdocs, and WorkSpaces). You can see Chime plan details here.
Our experiments with Chime so far have been excellent. Amazon is clearly building out a suite of productivity services that may serve as a bridge to selling IaaS.
Homepage of http://chime.aws.
2. AWS Organizations
Release Date: November 29, 2017
If your organization maintains multiple AWS accounts for different teams, AWS Organizations offers a new way to control and manage new and existing accounts. This is particularly useful for large, distributed organizations that want to allow separate teams to open separate AWS accounts, but also want to limit the services those teams can use and link all accounts into a central billing source.
You can see Matt Wood introduce the service here:
3. Updates to Amazon EC2 Reserved Instance size flexibility
Release Date: March 13, 2017
Amazon has continued to add features that improve the value and flexibility of Reserved Instances, improving customers' ability to purchase and manage large fleets of Reserved Instances. Last year, AWS added the ability to deploy a Reserved Instance across multiple availability zones, and as of March 2107, you can now also change the Reserved Instance size to any type within the instance family.
Logicworks manages thousands of Reserved Instances, so we were especially pleased with this announcement. Our customers no longer have to worry about launching the Reserved Instance in the right AZ and the right size; these can always be changed as the application changes.
4. AWS Direct Connect is now HIPAA-Eligible
Release Date: March 10, 2017
Healthcare companies that must meet HIPAA standards may use any AWS service, but they should only process, store and transmit electronic Personal Health Information (ePHI) in the HIPAA-eligible services defined in the Amazon BAA. AWS has now added AWS Direct Connect, a service that allows you to establish a direct network connection between your own datacenter and AWS, to the list of HIPAA-eligible services. This means you can now transmit ePHI over Direct Connect.
AWS continues to expand the list of HIPAA eligible services, highlighting the strong market appetite among healthcare customers for public cloud services. Logicworks has already helped large healthcare and insurance companies like Orion Health and MassMutual migrate to AWS.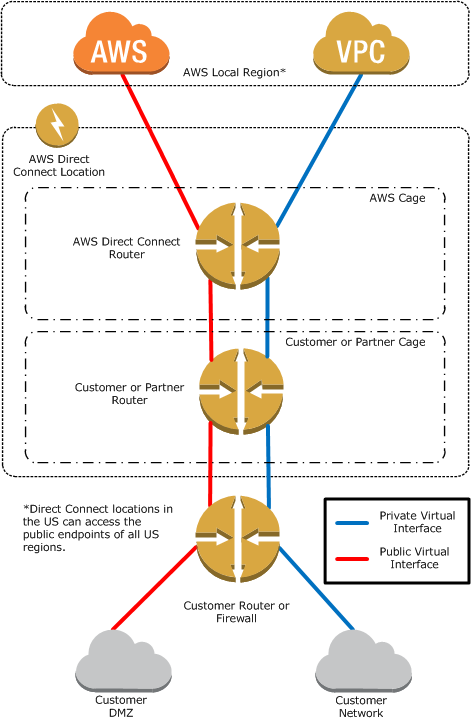 Source: AWS
5. EC2 Spot Advisor Console
Release Date: February 27, 2017
In February, AWS launched a new EC2 Spot Advisor Console, which helps customers through the process of setting up and managing Spot Instances "for common applications and tasks". This can assist customers who are unfamiliar with Spot Instances to easily set up a Spot Instance fleet and improve Spot reliability.
AWS simultaneously announced that you can now run health checks on the instances in your Spot fleet and get a warning before being replaced. In the past, a customer (or a company like Logicworks) had to build our own scripts to monitor and manage unhealthy instances. This is a huge step forward, so we expect higher use of Spot Instances going forward.
6. AWS Connect
Release Date: March 28, 2017
AWS Connect is a virtual contact center that allows you to set up and maintain a customer call center without managing infrastructure. Pricing is usage based, which should be especially attractive to seasonal businesses.
Amazon has been steadily building a portfolio of collaboration and workplace productivity services, and Connect certainly continues this trend. It highlights the growing importance of the united communications as a service industry (UCaaS) and Amazon's desire to be your one-stop-shop for all infrastructure and business services.
Want to keep an eye on AWS product announcements? Contact Logicworks to get the latest announcements in Logicworks' newsletter or on AWS' new announcements page.