In the last ten years, B2B SaaS adoption has surged. Software companies converted to cloud-based SaaS as customers demanded more flexible, reliable services without the hassle of maintaining 3rd party software on-premises.
In 2020, market forces are pushing the SaaS industry to record highs. Here are the top trends in SaaS to look out for in 2020:
SaaS Will Grow 10.5% in 2020
Software spending was $456 billion in 2019, and Gartner predicts 10.5% growth in 2020 — making it the fastest growing major IT market. Almost all of this growth will be in cloud-based SaaS, although Gartner points out that software spending will be up across the board. 
According to Gartner, enterprise spending is shifting away from saturated markets such as the mobile smartphone and tablet industry, and moving towards core operational improvements, like datacenter and cloud infrastructure. 
---
Worldwide IT Spending Forecast (Billions of U.S. Dollars)
2019 

Spending

2019 

Growth (%)

2020 

Spending

2020 

Growth (%)

2021

Spending

2021

Growth (%)

Data Center Systems
205
-2.7
208
1.9
212
1.5
Enterprise Software
456
8.5
503
10.5
556
10.5
Devices
682
-4.3
688
0.8
685
-0.3
IT Services
1,030
3.6
1,081
5.0
1,140
5.5
Communications Services
1,364
-1.1
1,384
1.5
1,413
2.1
Overall IT
3,737
0.5
3,865
3.4
4,007
3.7
Source: Gartner (January 2020)
---
Conversion to Cloud-Based SaaS is Top Priority
As demand for cloud-based products rises, traditional software companies that have resisted conversion to cloud-based SaaS are finally making the switch. In fact, converting from traditional software to cloud-based SaaS is a top priority for 43% of companies in 2020 — a significant jump from 29% in 2019. 
Anecdotally, the team at Logicworks is seeing a big wave of software companies in highly regulated industries, like healthcare and financial services, finally making a push to convert to SaaS this year. 
COVID-19 Gives SaaS a Boost
57% of companies plan to increase their cloud usage due to COVID-19, and 30% of enterprises plan to increase their usage "significantly higher than planned", according to a new report. (This includes SaaS, PaaS, and IaaS.)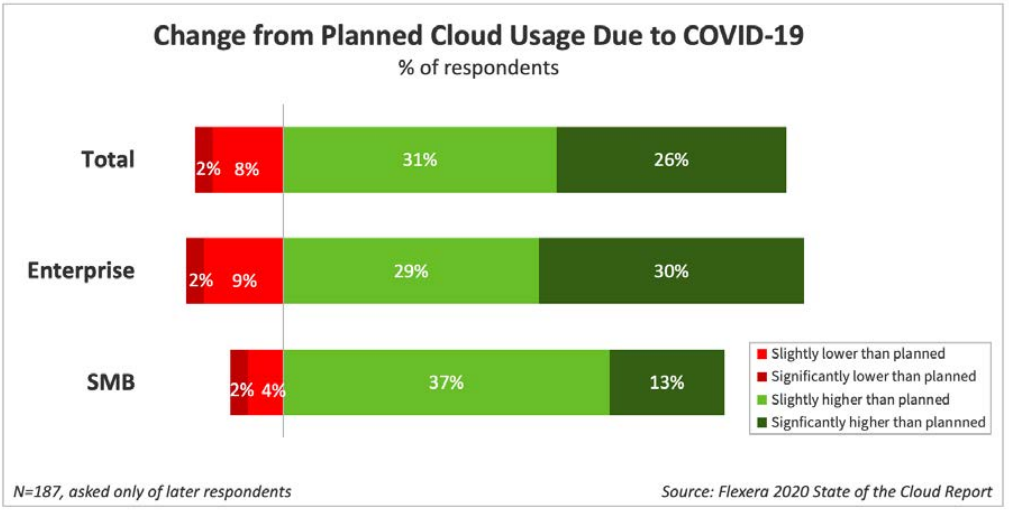 At a time when remote work is rising and datacenter management is more unattractive than ever, it's no wonder businesses will look for software that doesn't require a datacenter for future purchasing decisions. The sooner their renewal is, the more likely they'll go to a cloud based solution.
Summary
Despite nearly a decade of growth in the SaaS industry, there's still plenty of runway in the SaaS market for record growth in the next few years. Many highly regulated industries are beginning full-scale adoption of cloud technologies. 
If you are interested in converting your on-premises software to cloud-based SaaS, Logicworks can help. We have helped hundreds of software companies architect single- and multi-tenant SaaS solutions on AWS and Azure. Contact us to learn more.