Only 55.4% of companies meet all PCI DSS compliance standards, according to a new report released by Verizon. While this number is up 7% from 2015, it still translates to nearly half of retailers, IT services companies, payment software providers and hospitality organizations do not adequately protect credit cardholder information.
Download eBook: Payment Compliance on AWS Cloud
Companies had the greatest difficulty meeting the following requirements, many of which are related to infrastructure compliance and policies:
Requirement 3

– Protect stored cardholder data. Requirement 3 also saw the second highest use of compensating controls globally.

Requirement 6

– Develop and maintain secure systems, covering the security of applications, and particularly change management.

Requirement 11

– Test security systems and processes, including vulnerability scanning, penetration testing, file integrity monitoring, and intrusion detection.

Requirement 12

– Maintain information security policies. Control 12.8 (Manage service providers with whom cardholder data is shared) was the weakest of the Requirement 12 controls.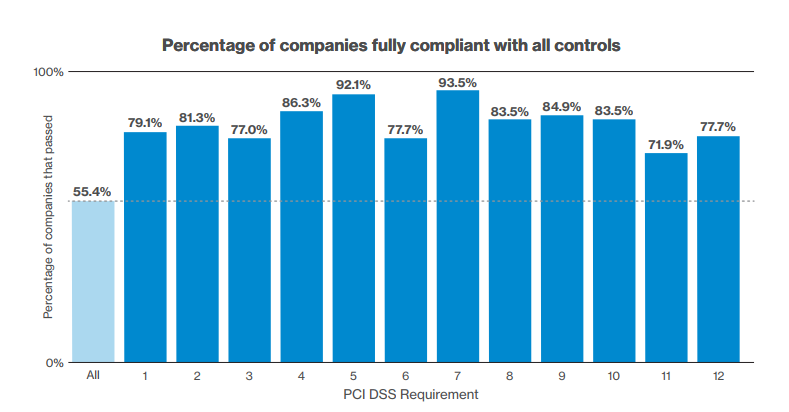 Additionally, 44.6% of companies fall out of PCI DSS compliance within nine months of validation.
At a time when 51% of compliance officers in financial services firms report a skills shortage in compliance, it is perhaps no wonder that many companies have fallen behind. Rather than hire more staff, sixty-seven percent (67%) of IT leaders would prefer an automated approach to infrastructure compliance, which is usually a cloud-based solution. One of the many reasons that cloud solutions are appealing is that the cloud platform (such as AWS or Azure) takes care of most physical security controls, reducing the overall cost and effort of building a compliant system. More than 50 percent of new 2017 enterprise North American application adoptions will be composed of SaaS, PaaS, or IaaS solutions, according to Gartner.
Infrastructure compliance automation on the public cloud (Amazon Web Services, Azure), which is referred to as Continuous Compliance or DevSecOps, has received increased attention in 2017. In basic terms, infrastructure compliance automation consists of several cloud-based tools, such as configuration management and infrastructure templates, that allow engineers to easily spin up compliant infrastructure, track configuration changes, and reduce manual compliance work.
The complexity of meeting infrastructure compliance requirements is growing, especially for companies that host large amounts of sensitive financial data. As companies explore cloud options, expect to see a shift in compliance management away from manual compliance work and towards cloud automation.
To learn more, download our new eBook: Payment Security and Compliance on the AWS Cloud or contact us.